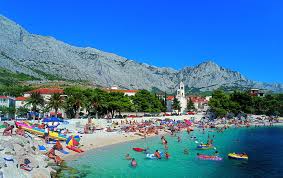 Baska Voda
---
Transfers – The closest airport: Split
Transfers available from all airports in Croatia

Baška Voda is one of the pearls on the famous Makarska Riviera. As with all the other settlements on the Riviera, Baška Voda is perfectly situated between the Adriatic Sea and the beautiful mountains of Biokovo. If you're spending your vacation in Baška Voda, you'll be able to enjoy sea and mountain adventures. But don't worry, you don't have to head for Biokovo on foot on a hot summer day as you can reach its very top by car.

Baška Voda is the perfect little town for peaceful holidays on the Adriatic coast. As with the rest of the Makarska Riviera, it is very proud of its clean, kilometre long beaches.
Baška Voda's popularity amongst visitors is owed to the great effort put in to make sure tourists have all they need. It has a long tradition of hotel businesses and often wins prizes for the best maintained tourist destination in competition with other towns of similar size.

Baška Voda has even more important features. Not only is it proud because of the well-kept town and lovely beaches, but its location is perfect too. It's easy to organize short trips from Baška Voda to Omiš where you can go rafting, see the Blue and Red Lake in Imotski or hop to the nearby island of Brač.