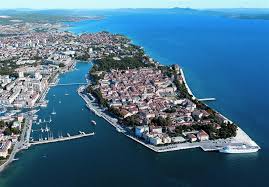 Zadar
---
Transfers – The closest airport:Zadar
Transfers available from all airports in Croatia

Zadar is situated at the northern part of Dalmatia. This 3000 year old town could be nicknamed "open air museum" because of its rich cultural heritage. The most famous being Forum, a town square dating from the ancient Roman period, and ST. Donat church with its very recognisable shape.
Wandering around Zadar's centre you will not only find historical items. You will also find modern installations that fit perfectly into the town's layout and atmosphere. The most popular attractions of Zadar these days is an installation called Sea Organs – which produces melodies with waves and Greeting to the Sun – a circle made of Perspex panels which emits fascinating light effects.

Zadar is an excellent destination for nature lovers because from there you can easily reach 5 national parks and 2 nature parks. Zadar has a lot to offer to those who decide to spend all of their vacation in the city. It's a great place for young people because of its vibrant night life. It's also a great place for families with children looking for a peaceful vacation and of course it's a great place for culture lovers.