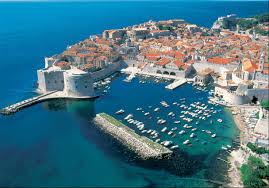 Dubrovnik
---
Transfers – The closest airport: Dubrovnik
Transfers available from all airports in Croatia

Dubrovnik is the most popular Croatian destination by far. Famously dubbed "the pearl of the Adriatic" every year enchanting more and more visitors with its beauty.

Dubrovnik is very well known for its cultural heritage. The panorama of its medieval town centre surrounded with wide, well preserved walls has been seen all around the world.
Dubrovnik is somewhat of a town-museum. When you enter its historical centre, every building becomes an exhibition piece. On the other hand, that same centre is very lively and vibrant, full of restaurants with local food and bars where locals and visitors enjoy the energetic street life of Dubrovnik.
If you visit Dubrovnik, make sure not to miss the experience of a stroll on its historical walls or a ride with cable car to Srđ from where you'll be able to see a beautiful panorama of whole city.

Dubrovnikis host to many cultural events in the summer time. The most famous one is the theatre festival Dubrovačke ljetne igre so don't be surprised if the towns square turns into a stage and you bump into costumed performers on the streets. You can see Dubrovnik on TV if you're a fan of the popular series Game of Thrones or The Borgias. Both had parts that were filmed in Dubrovnik.