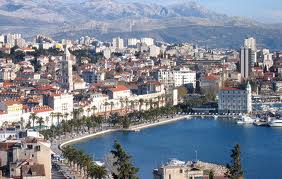 Split
---
Transfers – The closest airport: Split
Transfers available from all airports in Croatia

Split is the largest city on the Croatian coast. Being the administrative and cultural centre of the Croatian southern region, it has lots to offer when it comes to tourism. Split has become a favourite traveller's destination in Croatia. Culture lovers, party seekers and island hoppers are attracted to Split because it's the perfect starting point for visiting the islands of Brač, Hvar and Vis.

Split is a 1700 year old town. It developed and expanded around the palace/summer house of the former Roman emperor Diocletian. Because of its rich and historical life, Split is a real museum boasting the remains of an ancient Roman culture, although Roman heritage can easily be found all around Croatia. The Old Palace today is a vibrant town centre that thrills with its sights and its true Mediterranean ambience.

Over the years, Split has developed into a city for great parties also! With numerous festivals and concerts. Special emphasis is on the Ultra Europe festival, when hordes of young electronic music lovers occupy Split.

Split is also a perfect starting point for island hopping, but those who decide to not leave Split on their vacation will have plenty of great attractions to visit and experience – from the already mentioned cultural heritage, to the numerous restaurants with local specialties, the museums and beautiful clean beaches.