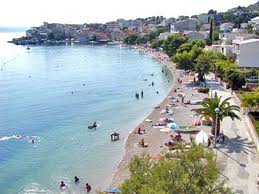 Igrane
---
Transfers – The closest airport: Split
Transfers available from all airports in Croatia

Igrane is a small settlement on the Makarska Riviera, perfect for those who prefer a peaceful vacation. Clear blue waters and beautiful beaches are the main reasons why Igrane has many returning visitors who just love this little town. Here you can really get to know and enjoy the real Mediterranean life, in a settlement of around 400 inhabitants and with some great gastronomy on offer.

Igrane, located a little south of Makarska, is a great location for trips to the surrounding areas. For those who love mountains, there is the magnificent Biokovo whose peak can be reached by car. Catching a glimpse of the stunning views of the archipelago and stopping at the botanical gardens are two musts when visiting Biokovo.

From Igrane you can also easily reach the island of Hvar (via ferry from nearby Drvenik).
A great location, beautiful beaches and the authentic experience of life in a little town on the Adriatic are what makes Igrane the perfect vacation destination!