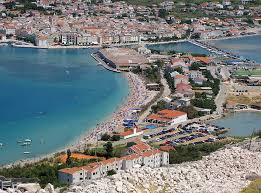 Pag
---
Transfers – The closest airport: Zadar
Transfers available from all airports in Croatia

Pag Island is one of the most extraordinary locations in Croatia. It stands out in many different ways but first and foremost for its incredible panorama. Many people compare the terrain of Pag Island to a stone desert or the Moon's surface. Because of the lack of vegetation, its panorama looks a little out of space.

Pag Island is also an island of many gastronomical delights and the most famous of these are cheese and lamb. They are unique in taste due to Pag's radically different vegetation compared to the rest of the Adriatic. These delicacies have made Pag popular outside the borders of Croatia.

There are more interesting facts about Pag island. It is also the party epicentre of the Adriatic. To be specific, Zrće is (the beach located near Novalja). It became a well-known destination for party lovers and it already has the flattering nickname of "Croatian Ibiza".
Outside of Zrće Pag Island is a perfect location for a family vacation. Small peaceful towns will welcome those who seek relaxation, want to sample local food or simply enjoy some clean beaches and clear water.
Find transfer to Pag (island of Pag)