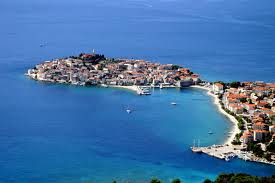 Primosten
---
Transfers – The closest airport:Split
Transfers available from all airports in Croatia

Primosten is one of the most picturesque towns in Dalmatia. It is situated on a small peninsula shaped like a little hill.
On its very top is a church tower and when you reach it, the view is spectacular. The panorama of Primosten is very memorable because of its unique layout.

Primosten is a typical small Mediterranean town with stone houses and narrow streets where you can find numerous restaurants and the seductive smell of local cuisine.
Primosten's beaches won over many of their visitors – Velika I Mala Raduča are favourite cobbled beaches of the locals and tourists. For those who seek some fun night life, Aurora club will meet their expectations.

Primosten is very well known for its authentic wine Babić. Make sure you taste it on wine roads in Primosten and visit the fascinating vineyard Bucavac that stands as a monument to the people's hard work. With little fertile land, people from Primošten were able to grow a beautiful vineyard which almost became a cultural landmark. Primošten will win you over when you see photos of its beauty but when you come to visit, it will meet and exceed all of your expectations.