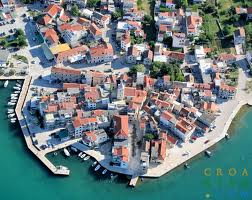 Pirovac
---
Transfers – The closest airport:Zadar
Transfers available from all airports in Croatia

Pirovac contains the natural phenomenon of a bay which is indented 10 kilometres into the mainland. This well protected bay is everybody's favourite spot for swimming because the sea is always a few degrees warmer than elsewhere. For this reason there are many lovely and well-kept town beaches stretching all along the bay.
There are also numerous hidden little coves for those who prefer peaceful and more private surroundings. Pirovac and the south part of its bay is very well known for its therapeutic mud which lot of swimmers like to try out.

Pirovac is in an outstanding location. From Pirovac you can easily access some of the famous natural beauties of Croatia. You won't have much trouble getting from Pirovac to national park Krka, go for a bird watching adventure on Lake Vrana or sail around the 89 islands of national park Kornati.
Find transfer to Pirovac center