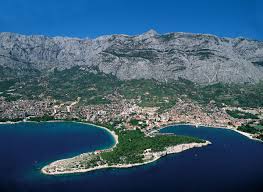 Makarska
---
Transfers – The closest airport:Split
Transfers available from all airports in Croatia

Makarska and its surrounding towns is one of the most popular tourist destinations in Coatia. Every year more and more visitors come to see what Makarska has to offer. Mostly, they fall in love with its beautiful, kilometre long, well maintained beaches with clean sea and boasting a wide selection of beach activities.
Makarska is also one of the liveliest towns on the Adriatic coast so party lovers won't be disappointed. Those who intend to spend their vacation with family will also be satisfied because Makarska has some great offerings for children's entertainment and also numerous opportunities for short trips to nearby areas.

Makarska is located between St. Peters peninsula and cape Osejava. Picturesque town streets and squares will thrill visitors. Its special attraction is the Malacological museum. In it you can see a rich collection of sea shells and whelks. Makarska is, with all it has to offer, a real touristic star!