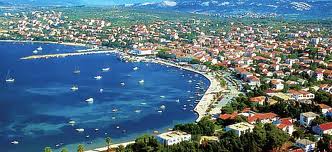 Novalja
---
Transfers – The closest airport: Zadar
Transfers available from all airports in Croatia

Novalja is a little town situated on the interesting and for many reasons unique, island of Pag. Lately, Novalja has become popular because of its beach Zrće. Zrće beach is only 2 kilometres away from Novalja's town centre. Zrće is more than just a place to go swimming and sunbathing - it's well known as one of the greatest party zones in Europe. It also got the nickname of Croatian Ibiza.

Novalja is not known only as a destination for young party lovers. It is a real family holiday destination as well, with its charming town centre and beautiful beaches. In Novalja and around, you can get to know its lovely pebble and sand beaches and its numerous restaurants and bars where you can relax and enjoy the local cuisine. One thing you shouldn't miss is the cultural heritage of Novalja with its town museum and an original ancient aqueduct.
Find transfer to Novalja center (island of Pag)