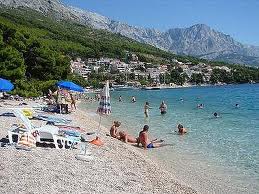 Brela
---
Transfers – The closest airport: Split
Transfers available from all airports in Croatia

Brela is one of the most famous towns on the Makarska Riviera. Well known for its beautiful long beaches. Brela is the first choice of destination on the Adriatic for many visitors. Out of the numerous beautiful and award winning beaches, the most famous one is Punta rat. Thanks to that beach Brela has been mentioned many times in world media and on prestigious travel websites. This is because it was in the top lists of the most beautiful beaches in the world.

Brela is an ideal destination for a family vacation. It's a peaceful little town with beautiful beaches and plenty of opportunity for organizing various short trips. Brela is a great starting point for visiting nearby islands and bigger towns, like Split or Makarska. Of course, the mountain of Biokovo shouldn't be forgotten when talking about trips. It's also quite easy to reach the botanical garden Kotišina on Biokovo from Brela or the very top of the mountain (which can be reached by car).